Profile

Grrl Still Kickin'
Blatherings from Bonnie Burton
Free Account
Created on 2017-04-09 23:32:54 (#2996817), last updated 2017-04-11 (23 weeks ago)
1 comment received, 0 comments posted
3,122 Journal Entries, 65 Tags, 0 Memories, 1 Icon

About

Mini Bio
I'm a blogger, vlogger, author, editor, journalist, craftster and geek grrl as well as the founder of the pop culture site
Grrl.com
.
Books I've written: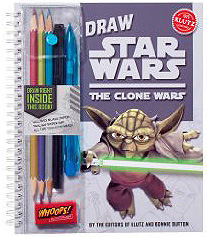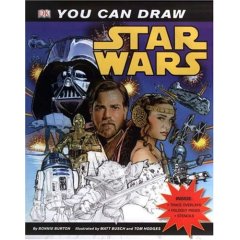 My writing is in the women's comic anthology
The Girls' Guide to Guy's Stuff
published from Friends of LuLu.
I've also written the magazines
BUST, Craft, Geek Monthly, Star Wars Insider, Wired
and
Organic Gardening
, among others.
I hosted the music video shows "Teletunes" (Denver) and "Subculture" (San Francisco), as well as 2 video podcast shows called Ask Bonnie and Ask @Sock -- the video archive can be found on
Youtube
and
Myspace Video.
Sometimes I end up on TV as a "pop culture media pundit" for CNN, E! and BBC.
I'm featured in Entertainment Weekly magazine
(Oct. 13, 2006) for my Bettie Page fandom.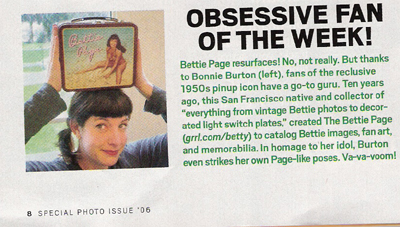 Connect
501st legion
,
agatha christie
,
alfred hitchcock
,
amy sedaris
,
aquabats
, bad robot,
bettie page
,
blade runner
,
blogging
, boys in kilts,
british pop culture
,
bust magazine
, candy matson,
carnivorous plants
,
cloverfield
,
crafts
,
cryptozoology
,
david bowie
,
david sedaris
,
dogs
,
drag queens
,
droids
,
edward gorey
,
film noir
,
forensic entomology
,
friends of lulu
,
geeks
,
gonk
,
graffiti
, grrl.com,
harry potter
,
heroes
,
horror films
,
horticulture
,
indie
,
indie films
,
indie music
,
insects
,
j.j. abrams
,
jackalopes
,
jane wiedlin
,
japanese horror films
,
jeremy brett
,
john waters
, johnny dollar,
london
,
lost
,
low brow art
, magazine journalism,
mail art
, mary vivian pearce,
natural history museums
,
organic gardening
,
paranormal studies
,
photo booths
,
photography
, pit bull dogs,
pitbulls
,
polaroids
,
r2-d2
,
roadside attractions
,
robots
,
rockabilly boys
,
rogue taxidermy
,
sam spade
,
san francisco history
,
screenwriting
,
sherlock holmes
,
sir arthur conan doyle
,
sisters of perpetual indulgence
, star wars crafts,
steampunk
,
stencils
, sticker bombing,
strangers with candy
,
strawberry pocky
,
street art
,
tank girl
,
tattoos
,
taxidermy
,
the mighty boosh
,
the thin man movies
,
the young ones
, theme restaurants,
thrift stores
,
tourist traps
,
transmedia
,
trashy tv shows
,
trent reznor
, urban murals,
velvet paintings
,
victorian era
,
vintage cookbooks
,
viral marketing
, whiplash the cowboy monkey,
wookiees
,
writing
,
ya
,
zines

People
[View Entries]

Communities
[View entries]

Feeds
[View Entries]

Subscriptions (0)

Linking
To link to this user, copy this code:
On Dreamwidth:
Elsewhere: